26 Aug, 2021
EU-BAT Compliance Confirmed for all Sateri Viscose Fibre Mills; Achievement Ahead of Schedule
26 August 2021, Shanghai — All of Sateri's five viscose mills in China are now fully compliant with the emission limits set out in the European Union Best Available Techniques Reference Document (EU-BAT BREF) on Polymers, following recent verification of Sateri Jiangsu and Sateri China mills.
Verified by independent consultant Sustainable Textile Solutions (STS), a division of BluWin Limited (UK), the parameters assessed included resource utility efficiency, wastewater discharge and air emission.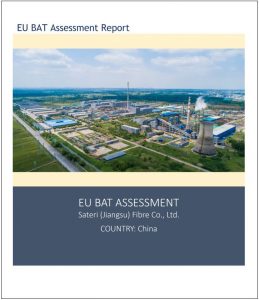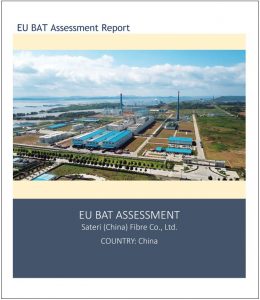 Allen Zhang, President of Sateri said, "Sateri Jiangsu was established in 2019 following an acquisition while Sateri China was built in the same year. We had aimed to have both mills meet EU-BAT's recommended emission levels by 2023. To achieve this two years ahead of schedule underscores our continuous efforts in process improvement and control of pollutant emissions, and resource utilization efficiency. We will continue to pursue manufacturing excellence and invest in best-in-class technologies for all our mills – existing, acquired, and newly constructed ones – as part of our Vision 2030 commitment towards closed-loop and cleaner production."
Chen Xinwei, Chairman of China Chemical Fiber Industry Association, said, "China's regenerated cellulose fibre industry has been progressing steadily in recent years. As a major viscose manufacturer, Sateri has demonstrated leadership in benchmarking itself against advanced domestic and international standards, focusing on low-carbon development, energy-saving and emission-reduction technology, and cleaner production to advance sustainable development, as well as enhance the company's competitiveness. All other players in the industry should be encouraged to follow suit."
Dr. Siva Pariti, Senior Technical Marketing Officer of STS, BluWin Limited, said, "Congratulations to Sateri on achieving EU-BAT compliance for all its viscose mills. This is a commendable feat, especially in the quick environmental sustainability turnaround of its mill in Jiangsu, which was an old mill acquired only two years ago. The achievement sets a benchmark for the industry, and is a testament to Sateri's position as a leading viscose producer."
Sateri is a member of the RGE group of companies; Sateri's other three mills – Sateri Fujian, Sateri Jiujiang and Sateri China (Jiangxi) – had attained EU-BAT compliance in 2020.
Reference: Sateri EU-BAT Assessment Reports.
About Sateri
Sateri is the world's largest producer of viscose fibre, a natural biodegradable raw material found in everyday items like textiles, wet wipes and other personal hygiene products. Our five mills in China collectively produce about 1.5 million tonnes of viscose fibre yearly.
Our range of high quality viscose products, branded EcoCosy®, is independently verified as safe, sustainable, and responsibly produced. We also produce textile yarn, spunlace non-woven fabric, Lyocell, and FINEX™, a recycled textile fibre.
Headquartered in Shanghai, we have a sales, marketing and customer service network covering Asia, Europe and the Americas.
Sateri is committed to the fundamental principles of sustainable development; our business practices are underpinned by strict adherence to our Sustainability Policy, Pulp Sourcing Policy and universally accepted environmental and social standards.
More information at www.sateri.com
Media Contact
Lansing Li
zhenzhen_li@sateri.com