16 May, 2020
An Interview with: 361°
Tell us more about 361° and what you do at 361°.
Established in 2003, 361° is a leading sportswear enterprise in China. The Group is an integrated sporting goods company which principally engages in brand management, research and development, design, manufacturing and distribution. Our comprehensive product portfolio comprises footwear, apparel, accessories under the 361° Core brand, 361° kids brand, and ONE WAY, an authentic Finnish brand for premium functional and specialised outdoor products.
The Group operates a distributorship model through tier-one exclusive distributors and second-tier authorised retailers to manage an extensive distribution network of over 7,000 retail stores across China and approximately 3,000 points of sales across the world. We have also established a leading position in third-tier and other cities in China.
Leveraging diferentiated products and strong brand equity, our global footprint spans more than 24 countries including United States, Brazil, and countries in Europe and the Middle East.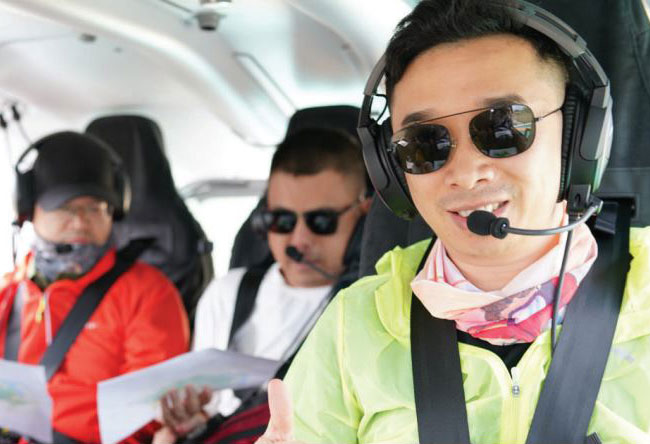 (Top) Helicopter ride during Kerinci site visit for a bird's eye view on renewable plantations. (Centre Right) A short hike through the RER (Restorasi Ekosistem Riau) conservation area. (Bottom Right) Helicopter ride pre-departure. (Left) 361° casual series with Sateri's EcoCosy® hangtag
I have been with the company for four years as Senior Product Manager of Children's Wear Division, responsible for the overall planning, development, technology, and cost management of the technical department.
Why did you choose to partner EcoCosy® as the preferred material for your products?
The world's resources today are continuously depleting and environmental pollution is becoming a serious problem. More and more people are gradually aware of the need for environmental protection and value renewable materials. As a leading company in the fashion and apparel industry, 361° shares the responsibility for sustainable manufacturing and energy conservation.
COLLABORATING WITH ECOCOSY HAS IMPROVED THE PERFORMANCE AND DIVERSITY OF 361°'S CHILDREN CLOTHING SERIES
EcoCosy® products fulfl these requirements. Sateri, as the owner of EcoCosy® brand, places great emphasis and puts in tremendous efort on the sustainability front. Not only are EcoCosy® fbres a renewable resource, the fbre characteristics of comfort, softness, skin-friendliness and safety suit the needs of our children's wear consumer groups. Collaborating with EcoCosy® helped improve the performance and diversity of our children's clothing series.
Tell us more about your experience at Sateri's brands visit to Kerinci in Indonesia last year.
To be able to stand right at the place where all these raw materials used in our clothing came from was an eye-opening experience! I saw the perfect balance of landscape management taking place – from the breathtaking renewable plantations to the peatland forest conservation and restoration eforts; from the economic benefts to the country to the local community development – the entire system now makes sense. Besides this, I witnessed the extensive use of technology, innovation and science-based approaches to help the company make important decisions.
With the scale of the company and the infuence it has over its peers in the world, I am excited to be working closely with Sateri and EcoCosy®. If there is a chance, I look forward to the opportunity to visit again for a deeper understanding and learning experience!
What are your future plans with EcoCosy®?
This year, we made 100,000 T-shirts using EcoCosy® fbres. We will increase the volume and jointly promote EcoCosy®. In 2021, we plan to incorporate environmental protection and recycling concepts into the overall planning for clothing and accessories, increase product range and coverage, as well as conduct joint promotional activities with EcoCosy®.