19 May, 2023
Sateri Honoured as a Sustainable Development Goals Forerunner
19 May 2023, Shanghai – Sateri is among the pioneer batch of recipients of the prestigious "Golden Key – SDG Forerunners" at the 2023 Leadership Forum on Sustainable Development (SDG) in China. This esteemed recognition honours enterprises that are consistently forging ahead and leading the charge in advancing SDGs.
GoldenKey is a platform developed by the China Sustainability Tribune to accelerate and showcase sustainable solutions to global challenges. Sateri's recognition as a Golden Key SDG Forerunner is a testament of our unwavering commitment to address pressing global challenges such as climate change, ecological preservation, and inclusive economic and social development. As a leader in the textile industry, Sateri remains dedicated to exploring innovative solutions, embracing sustainable practices, and collaborating with stakeholders across the value chain. Over the past three years, Sateri has proudly embarked on various initiatives to create a meaningful impact.
Amongst some of our key milestones is the launch of Sateri's Vision 2030. The comprehensive roadmap outlines our ambitious climate change goals of a 30% reduction in greenhouse gas emissions (Scope 1, 2, and 3) by 2030, and net-zero by 2050. As part of this commitment, Sateri installed solar panels at its mill sites to generate energy for its operations, and also launched three zero-carbon fibre products: EcoCosy®, Lyocell and FINEX™.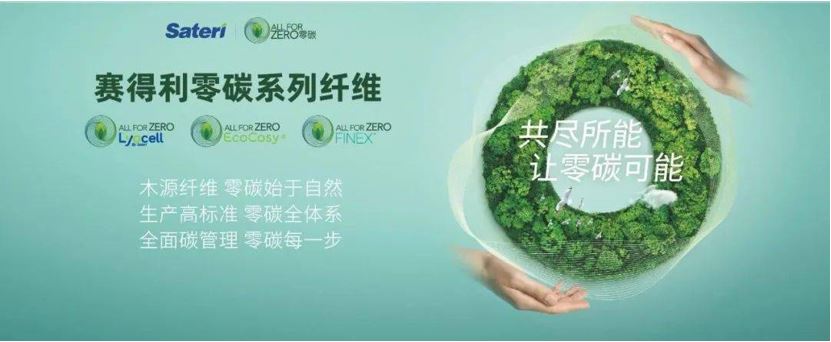 On the nature front, Sateri partners with Conservation International to safeguard the health and biodiversity of Poyang Lake, China's largest freshwater lake. As a sanctuary for many endangered migratory birds such as the Siberian cranes and oriental white storks, as well as a hotspot for the Yangtze finless porpoises. To drive more awareness on wetland and biodiversity protection, Sateri enrolled our downstream brand partners and local communities, including children, onboard the conservation journey.