As one of the world's leaders in the
viscose fibre
, Sateri is cooperating with spinning partners, fabric producers as well as printing and dyeing partners to develop innovative BV fibre applications together.
The Sateri BVY Programme is designed to help BVY partners develop and promote better quality, sustainable and traceable BV yarns. It also helps fabric producers to better identify and select
high-quality viscose yarns
made from BV fibres. Through in-depth cooperation with yarn and fabric partners on development and innovation, BV yarn is optimized to produce high-quality fabric products that will add value to our business partners.
With yarn and fabric producers who are already partners in our BVY programme, we continue to value-add their business by providing stable fiber supply, technical support, assistance in building value chain traceability capability and promoting downstream demands and participation, including all-round promotion activities.
For more information on our BVY programme, please see details below or contact us at +86 21 3861 6888 or
commercial1@sateri.com
.

BVY Certification – A Mark of Premium Partner
To ensure the effectiveness and quality of the BV yarns, Sateri has developed a rigorous, systematic process to verify the yarn quality of our BVY partners. This includes an audit mechanism to ensure our partners always adhere to the stringent certification standards of Sateri's BVY Programme.
BVY Certification Criteria
Pure spinning fibre yarn, single twist spinning, BV fibre usage must not be less than 50% of the yarn content, with the remaining proportion using Sateri viscose.
Blended fibre yarn (such as viscose/polyester), with BV fibre content constituting not less than 30% of the total fibre content
For yarn customers who meet the requirements of our BVY Programme, Sateri will issue them with BVY certificate as proof that their yarn products use Sateri's BY fibre and are more superior than that of generic cotton yarn products.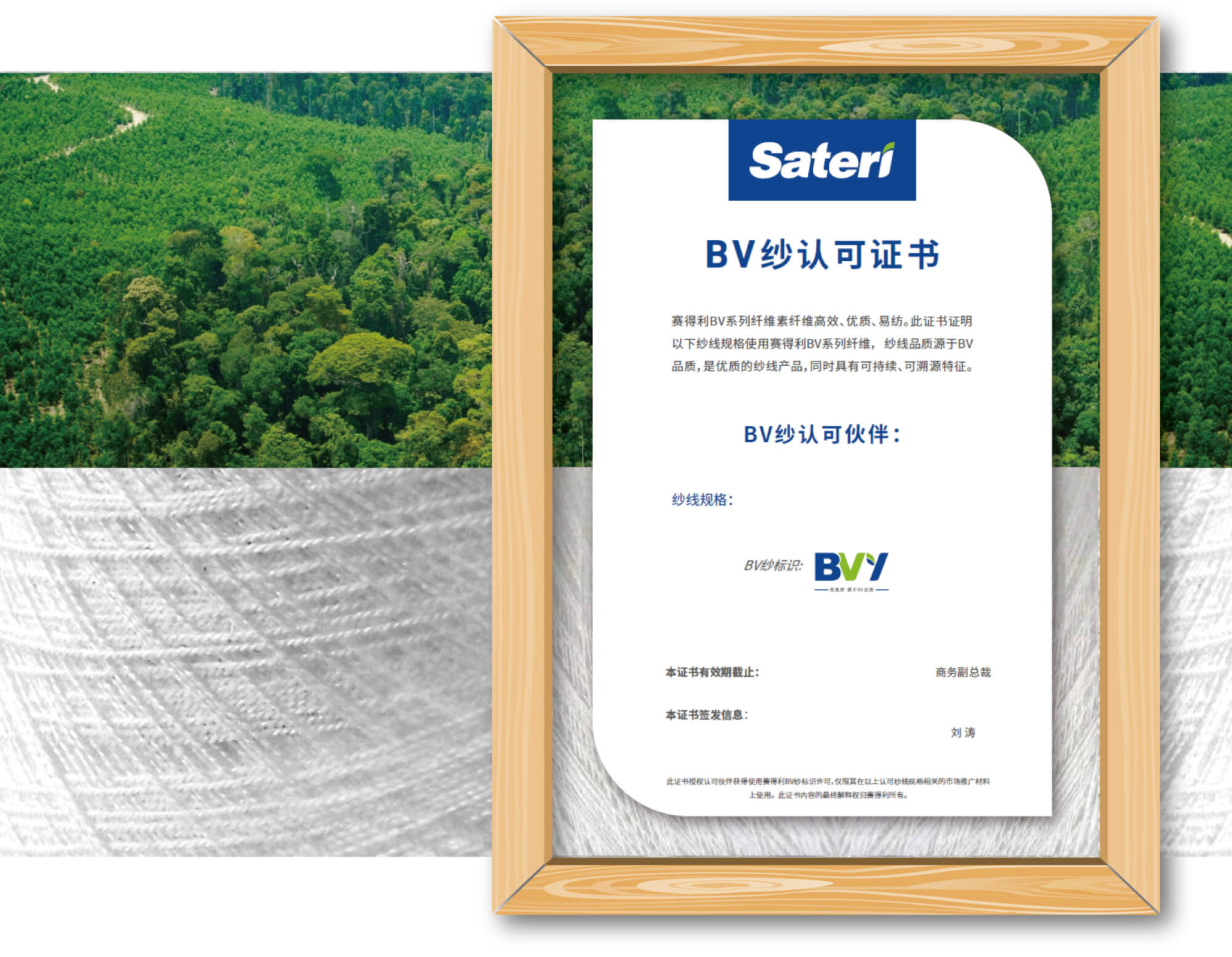 BVY Authorized Partners